George Neilson, Chartered Accountant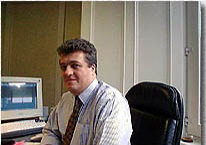 I am married to Annie and we have no children, but we do have four dogs, three birds and a cat to run our lives for us. In our spare time we enjoy going to the football (not the old firm), drinking and eating out (especially at clients expense, Ha-Ha!), and letting the dogs take us for a walk.
Born, brought up and living in Lanarkshire, for many years I enjoyed commuting to and working in Glasgow (the big city), but I am now delighted to be working in Lanarkshire as my long lies in bed and my monthly fuel and parking bills will testify.
After graduating from Heriot-Watt University in 1986 with a Bachelor of Arts in Accountancy, I decided to do my training in another big city, namely London. I trained with BDO Binder Hamlyn a national firm of Chartered Accountants, and after qualifying in 1989 I continued with the Firm in a supervisory role. After one further year I decided now was the time to return home to Scotland (my wife was keen to stay in London, and this remains the only argument I have won).
I joined Touche Ross in Glasgow (another national firm) in 1990 as a manager in charge of the small business department. I spent the next four years managing the audit work, accountancy and taxation affairs of a large number of owner managed businesses, Limited companies and partnerships. The next natural step was to seek a position as a partner with another Firm but who would have me?
Joining Hastings & Co, a Glasgow CA practice, in 1994 as Audit and small business partner was the best move I have ever made and the next four years proved invaluable. All the common problems experienced in operating a business were encountered by me during this four year period and the close working relationship established with my own client base formed the foundation to set up Neilson Renton & Co in 1998.
Since the formation of our Firm Callum and I have not looked back and our clients have benefited from the knowledge and experience we gained with past employers and with the clients we encountered.
We are two down to earth individuals who have the experience and the staff to assist you with all your accountancy and taxation requirements.
You need look no further!