Callum Renton, Chartered Accountant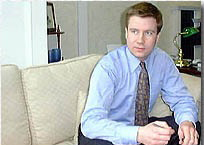 I am married to Kate and we have 3 children who used to be small and run our lives for us. Now they are older, they are content to spend our money instead. In the little spare time I have I enjoy football (watching rather than playing, given the age of my knees), whisky (a hobby shared by Kate, honest!) and dreaming that our boys might still make it as Premiership footballers.
Born and brought up in Campbeltown in Kintyre I left the town to come to Glasgow in 1985.
After graduating from the University of Glasgow in 1988 as Bachelor of Accountancy, I trained with Neville Russell (now part of Mazars) a national firm of Chartered Accountants. After qualifying as a CA in 1991, I continued at Neville Russell in a management role for a further 5 years, working principally with owner managed businesses including companies, partnerships and sole traders.
Joining PKF (another national firm) in 1996, I spent the period until 1998 managing the audits of a number of substantial companies, groups and plcs, including several household names.
In 1998 I was given the opportunity to become a partner in Hastings & Co, a Glasgow CA practice involved in insolvency, accountancy, and financial services work. Within 8 months, myself and George Neilson, my fellow partner, had agreed a buy out of the entire accountancy division - clients, staff, systems, the lot - to set up Neilson Renton & Co.
The practical experience gained from developing my own business has provided me with a valuable insight into common problems experienced in operating a business. I prefer to establish a close working relationship with proprietors, partners and directors in order to obtain a keen understanding of their businesses.
Since the formation of our firm we have been successful in growing the practice and attracting a wide range of new clients.
Will you be next?